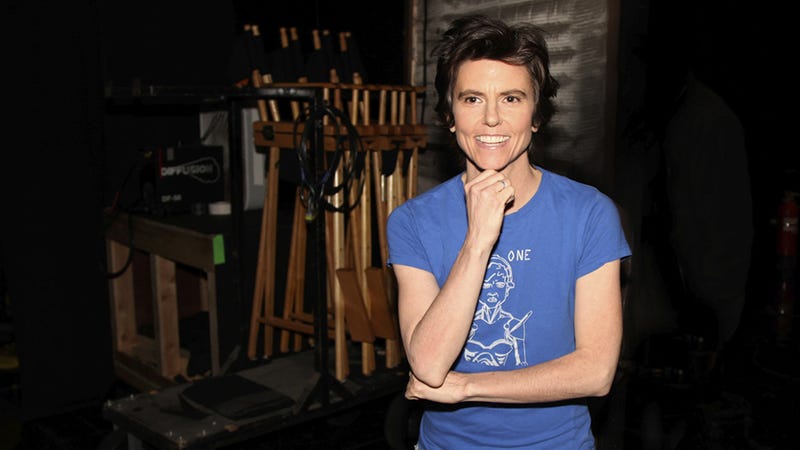 Aw, you're having a rough day, huh? Long line for coffee at Starbucks? Some guy just manspreaded his bits all over your subway seat? Mini iPad ran out of battery right before you could find out why Ben Affleck and Jennifer Garner are getting divorced and what's really going on with them?!
Well, get ready to feel like a real asshole after you watch comedian Tig Notaro's new documentary Tig on Netflix.

After getting diagnosed with C. diff—a bacterial infection where toxins attack the intestines—and wasting away to a skeleton, Notaro got the news that her mother had suddenly died just days after her birthday, then her girlfriend broke up with her, and shortly thereafter she was diagnosed with breast cancer.

So, yeah, please, continue to complain about your slow WiFi and how you could "literally die" because of it.
Out of all of this tragedy, Notaro found humor. A lot of it. "As soon as I was diagnosed," she says in the film, "everything came over me as funny."
The documentary follows her in the wake of her viral comedy set at Largo in L.A. where she opened with "I have cancer." The rest of the set was so honest, hilarious, and moving, that Louis C.K. said it was some of the best stand-up he's seen in his two decade-plus career.

Throughout the documentary we see Notaro struggle with everything from finding her voice again after being offstage for six months, to trying to conceive with her girlfriend. It's heartfelt and very funny, just like the perfect Notaro herself. (Not to mention the love story between her and her girlfriend is the fucking cutest.)

Notaro teaches us how to take our ovaries in our hand and woman-up when faced with life's unexpected hardships—and we're not talking about a mean tweet. We're talking weird debilitating diseases and losing loved ones.
Tig is one long, powerful "It Gets Better" ad. After watching it, you will be very grateful for your life, no matter how shitty and sad it might seem right now.